Song of the Open Road
from Leaves of Grass (1900)
by Walt Whitman

Allons! the road is before us!
It is safe—I have tried it—my own feet have tried it well.

Allons! be not detain'd!
Let the paper remain on the desk unwritten, and the book on the shelf unopen'd!
Let the tools remain in the workshop! let the money remain unearn'd!
Let the school stand! mind not the cry of the teacher!
Let the preacher preach in his pulpit! let the lawyer plead in the court, and the judge expound the law.

Mon enfant! I give you my hand!
I give you my love, more precious than money,
I give you myself, before preaching or law;
Will you give me yourself? will you come travel with me?
Shall we stick by each other as long as we live?
---
I thought it would be nice to pick a love poem this week and found this one from Walt Whitman's Leaves of Grass.  I am including the last verse (17) of the poem above –> see this link for a full version.
I searched my photos for open roads to inspire this week's drawings and decided to stick with a not so open one from a small street in San Francisco — a city I love.  It is hard to find wide open roads here, and it may not count as 'travel' but there is nothing more than I can hope for than to be able to explore these little roads of San Francisco with the one I love, sticking by each other as long as we shall live.

Road (after Arial), pencil on paper, 5-1/2 x 8-1/2 inches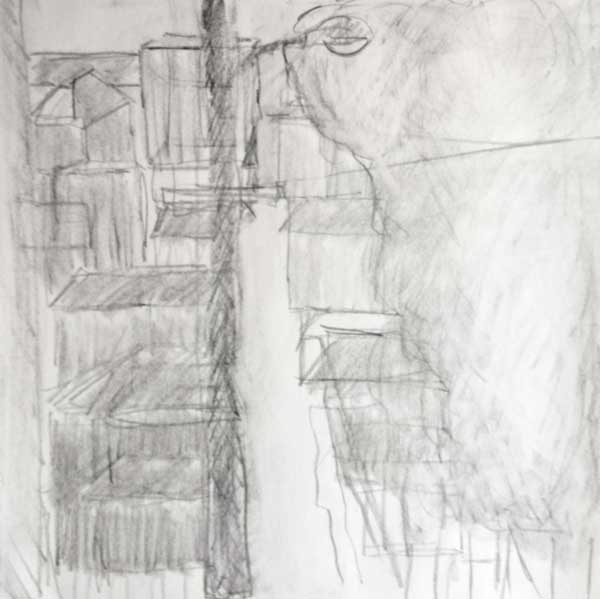 Road (sketch), pencil on paper, 10 x 10 inches

Open Road (SF), gouache on paper, 12 x 9 inches