SONG OF THE OPEN ROAD
from Leaves of Grass (1900)
by Walt Whitman

4
The earth expanding right hand and left hand,
The picture alive, every part in its best light,
The music falling in where it is wanted,
and stopping where it is not wanted,
The cheerful voice of the public road
—the gay fresh sentiment of the road.

O highway I travel! O public road!
do you say to me, Do not leave me?
Do you say, Venture not? If you leave me, you are lost?
Do you say, I am already prepared—I am well-beaten
and undenied—adhere to me?

O public road! I say back,
I am not afraid to leave you—yet I love you;
You express me better than I can express myself;
You shall be more to me than my poem.

I think heroic deeds were all conceiv'd
in the open air, and all great poems also;
I think I could stop here myself, and do miracles;
(My judgments, thoughts, I henceforth try by the
open air, the road;)
I think whatever I shall meet on the road I shall like,
and whoever beholds me shall like me;
I think whoever I see must be happy.
---
One more week on Whitman's Song of the Open Road. It feels good to find something I want to explore multiple weeks in a row. I still feel like I'm not quite where I want to be, but it is a start and hopefully I am getting closer.  I am experimenting with a picture from the coyote hills — a place that makes me feel some of the things Whitman captures in this poem.
This week, I have been trying to be more abstract…though it is not turning out as abstract as I'd like it to be (maybe I need a couple more weeks on this theme).  Letting go of the control it takes to make a picture look realistic opens up possibilities and surprises and feels like the place I'd like to go with painting in general. It's just a difficult road for me to find for some reason.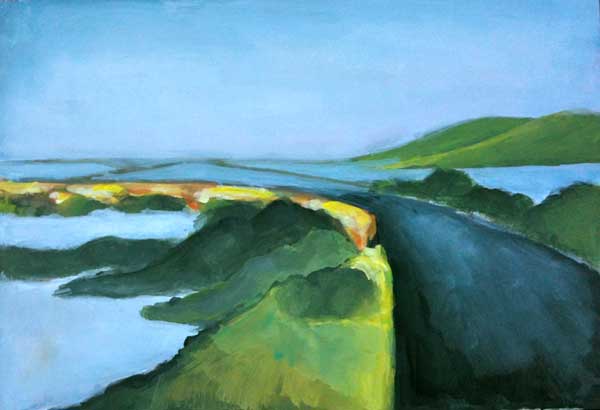 Open Road, gouache on paper, 7 x 10-1/4 inches

Open Road, gouache on paper, 9 x 6 inches

Open Road, gouache on paper, 11 x 8 inches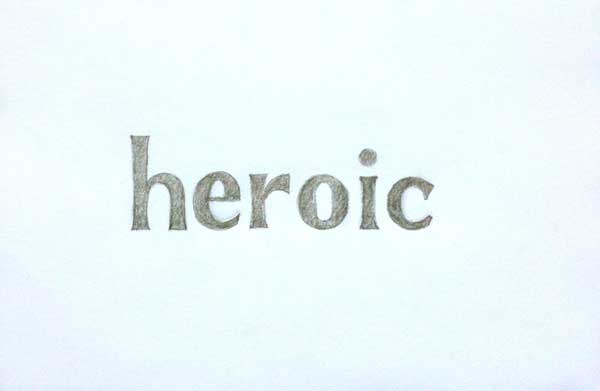 Heroic (after Optima), pencil on paper, 5-1/2 x 8-1/2 inches